Understanding The Metaverse: A Marketer's Guide To The Future
One of the most prominent headlines on the Forbes website read "Metaverse technologies are continuing to make massive advances and promise to disrupt many industries." With such headlines making the rounds, one would come across words like Bitcoin, Dogecoin and Metaverse Horizon.
Even Tech CEOs like Satya Nadella and Mark Zuckerberg have been very vocal about metaverse being the future of the internet and in general. Mark Zuckerberg commented on the metaverse being a logical evolution: "It's the next generation of the internet – a more immersive, 3D experience. Its defining quality will be a feeling of presence like you are right there with another person or in another place." Zuckerberg's claim to fame Facebook announced its rebranding to Meta over a year ago and since then, VR social platforms like Roblox have focused on the same. In fact, more than 77% of Internet users, which converts to 3.9 billion people, are actively using at least one Meta platform.
So what is the metaverse? Is it a video-calling portal? Is it a video game?
Well, it's difficult to put a pin on all the things the metaverse can be. But, to understand the concept of Metaverse it is essential to imagine a virtual world with billions of people being able to trade and interact with each other just like the physical world. Today, computers, technology, and the internet connect us to a world of web-based information and have become portals to a 3D virtual realm allowing us to take our identities and money with us. This can be defined as the metaverse, notwithstanding the fact that it is still developing and companies have different versions and utilization of the same.
Before we jump to metaverse marketing and how lucrative it is, one must scour through the latest trends in metaverse to witness how industries are leveraging its advantages and boosting sales.
Metaverse And The Fashion Industry: Fashion is an extremely competitive space, especially with new brands bringing a fresh and sustainable approach while luxury brands struggle to retain their audience. Stepping into the meta craze, brands like Gucci are taking the lead in metaverse by introducing digital avatar clothing. Even Nike's metaverse shop Nikeland has over 7 million visits till date, indicating the metaverse is bringing a brand inclusive and custom experience to customers.
Real Estate In Metaverse: House hunting has taken a 360-degree turn after real estate companies using metaverse to make a house buying experience more immersive and personal. Every buyer wants to inspect a property before investing and immersive metaverse technologies like fully immersive and semi-immersive virtual reality help buyers have a look at the property without the hassle of physical visits. Metaverse allows real estate companies to hold open houses and listings across virtual platforms.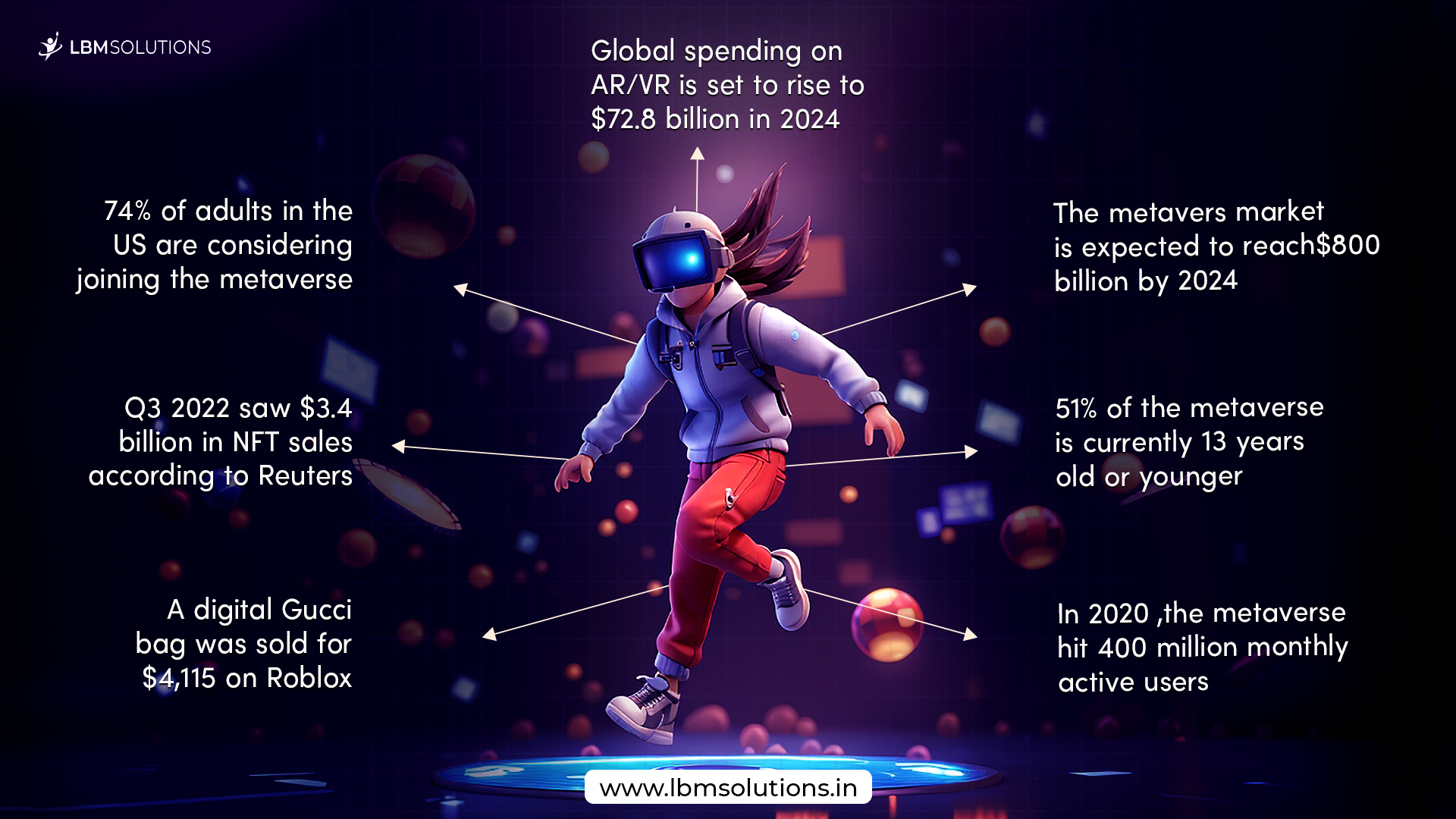 Metaverse And The Finance Industry: Apart from better banking experiences, banks are using metaverse technologies for staff training. Bank of America has initiated a virtual reality training program for a workforce of 50,000 people. Additionally, the metaverse allows banks to be inclusive of cryptocurrency like the NFT market in metaverse and become platforms of storage, management, and trading services. The finance industry has been using metaverse to offer mortgages and virtual loans for virtual assets.
As for the opportunities, metaverse offers ease of use which consumers can leverage for multiple activities. In the current times, a lot of prominent business opportunities can be availed of within the metaverse such as training and education, metaverse gaming, virtual tourism, remote working and shopping in metaverse.
If we were to analyze, what is the point of commonality amongst all of these industries harnessing the power of metaverse to reach a global audience? The answer would be Metaverse Marketing.
But what is metaverse marketing?
Metaverse marketing is a method to create immersive experiences for potential customers wherein businesses can sell NFTs and digital products and services. This allows brands to increase awareness and acquire monetary benefits. Like traditional marketing is an amalgamation of SEO, blogs, creative content, and Google rankings, metaverse marketing leverages multiple technologies to make customers experience products and services from the comfort of their homes.
Metaverse marketing harnesses innovative tactics such as:
Virtual Advertising Using Immersive Technologies: 3D and virtual billboards have started making rounds which showcase experimental and immersive advertisements leading the pathway to interactive advertising. Bidstack- a video game ad tech company has been helping businesses place in-game advertisements which is a fresh take unlike the boring text pop-ups we see on our screens.

Virtual Pop-Ups: Flea markets, trade fairs, and career fairs are a common occurrence for businesses of all types and sizes. However, with metaverse marketing tactics like virtual pop-ups, your brand will be able to reach a larger scale of potential clients. Just like an in-person event, virtual pop-ups allow people to network and advertise as well as sell their products and services.
Metaverse Events: The Lil Nas X concert was a metaverse event that took place in the virtual reality world of Roblox. Metaverse events are a virtual spinoff for in-person marketing and brand introduction seminars but in a more creative way.
While these tactics seem futuristic, most of you must be thinking if metaverse marketing has a future? Metaverse events and virtual-reality pop-ups are not only used by brands but celebrities as well which has showcased immensely positive results so far. It has been predicted that the global value of Metaverse will increase to $1.5 trillion by 2030. Hence, one can definitely bet on the metaverse having a future.
Since metaverse is a novel concept, it requires marketing and advertising for proper reach and propagation. This will give brands a first-mover advantage and the means of running campaigns in this arena is different from traditional means of marketing. Additionally, the future of metaverse marketing can be viewed in a positive light as it offers companies and brands an interactive opportunity to target a young audience (Gen Z and millennials). Currently, there are approximately 3.4 billion users playing meta-verse based games.
Moreover, metaverse allows brands to portray their products and services in an immersive environment. Not only will this change the perception of marketing but of brand building and client acquisition as well. Recently, a brand as successful as Fenty Beauty by Rihanna collaborated with Roblox to launch a new makeup product. This indicates that metaverse marketing allows for marketing campaigns that aren't thought of before.
The Bottom Line Is
With multiple brands and platforms using metaverse marketing, it does indicate a lucrative future for marketers and brands alike. Additionally, if you approach the best metaverse development company as we are here , you can avail of experimentation and innovation with a unique approach to your brand.
And when it comes to metaverse and metaverse marketing, we believe the skies of virtual reality are the limit!
The global market capital of metaverse companies is approximately $14.8 trillion, and with such projections, one can only imagine the growth metaverse is going to undergo and offer.
This widens the scope of metaverse marketing, making it the fastest gateway for brands and industries to reach a larger target audience. So are you ready to make your company as one of the leading brands using metaverse? Look no further than LBM Solutions! You are just one step away from getting professionals to work on your brand's virtual aspect, get in touch with us right away!